The financing modalities of banking foundations
Case study of social and solidarity economy sector in Morocco
Palavras-chave:
economia social e solidária, responsabilidade social das empresas, bancos, financiamento
Resumo
O objetivo deste artigo é fazer um inventário dos meios de financiamento dos atores da Economia Social e Solidária (ESS), questionando o papel particular das abordagens de Responsabilidade Social
Empresarial (RSE) dos bancos marroquinos no financiamento deste setor. Para responder a essas perguntas, listamos, por meio de uma análise qualitativa, principalmente componentes documentais da abordagem de RSE de sete bancos marroquinos, com base em dados disponíveis em seus últimos relatórios de RSE e informações divulgadas em seus sites institucionais. A principal contribuição deste artigo é oferecer um primeiro suporte de reflexão sobre a vontade do setor bancário em apoiar a ESS através da abordagem de RSE dos seus atores.
Referências
Aguilera, R. V., Rupp, D. E., Williams, C. A., & Ganapathi, J. (2007). Putting the S back in corporate social responsibility: A multilevel theory of social change in organizations. Academy of management review, 32(3), 836-863.
Allemand, I., Brullebaut, B. (2007) Sustainable Development: A Review of the Banking Sector March 2007.
Ammar, S. B., & Bouhassine, I. (2015). The CSR approach of Tunisian banks: Feedback from the BNA. Technologist at the Higher Institute of Technological Studies of Bizerte, Tunisia. 2015.
Autes, M. (2006). "Les acteurs et les référentiels", in J. N. Chopart et al, Les dynamiques de l'économie sociale et solidaire, La Découverte, Recherches, pp. 81-113.
Branco, M. C., & Rodrigues, L. L. (2007). Positioning stakeholder theory within the debate on corporate social responsibility [..]. Electronic Journal of Business Ethics and Organization Studies, 12(1), 5–15. https://jyx.jyu.fi/handle/123456789/25388
Boucher, C., Capelle-Blancard, G., Couppey-Soubeyran, J., & Havrylchyk, O. (2013). Quand la finance ne sert plus la croissance. L'économie mondiale, 72-90.
Bouchra, S. H. (2003). "Les ONG de développement, logiques d'acteurs et stratégies de développement, le cas du Maroc". Université Catholique de Louvain. www.uclouvain.be/cps/ucl/doc/dvlp/documents/DT_25_Bouchra.pdf.
Cattani, A. D., & Laville, J.-L. (Dir.) (2006). Dictionnaire De L'Autre Économie. Folio Actuel (p. 232).
Chopart, J. N., Neyret, G., & Rault, D. (2006). Les dynamiques de l'économie sociale et solidaire. La Découverte.
Combes, M. (2005). Quel avenir pour la Responsabilité Sociale des Entreprises (RSE) : La RSE : l'émergence d'un nouveau paradigme organisationnel. Management & Avenir, 6, 131-145. https://doi.org/10.3917/mav.006.0131
De Boissieu, C., & Couppey-Soubeyran, J. (2013) La réglementation bancaire, in Ch. de Boissieu and J. Couppey-Soubeyran (eds.) Les Systèmes Financiers. Mutations, crises et régulation, Paris, Economica, 147-173. Dictionary of the Other Economy, p. 232
Freeman, R. E. (1984). Strategic Management: A stakeholder approach, Boston, Pitman.
Hikkerova, L., & Bortolloti, J. (2013). Finance Durable et RSE : le cas de trois banques. Gestion 2000, 30, 79-98. https://doi.org/10.3917/g2000.306.0079
Ibrouk, A., & Fatiha, S. (2003). "La promotion des actions du mouvement associatif au Maroc : des réalisations appréciables à évaluer", In Euro-Med Integration and the 'Ring of Friends': The Mediterranean's European Challenge, Vol. IV", European Documentation and Research Centre, pp. 253-274.
Lardy, J. P. (1997). Recherche d'information sur l'Internet. Outils et Méthodes. ADBS.
Maxime, H., & Vienney, C. (1984). Socio-economics of cooperative organizations. In: Tiers- Monde, 25(99). 716-719. La dette du Tiers Monde.
Saïdi S., Toepler S., & Salamon L. (2003), "Le secteur à but non lucratif au Maroc", Edition Impérial, Rabat.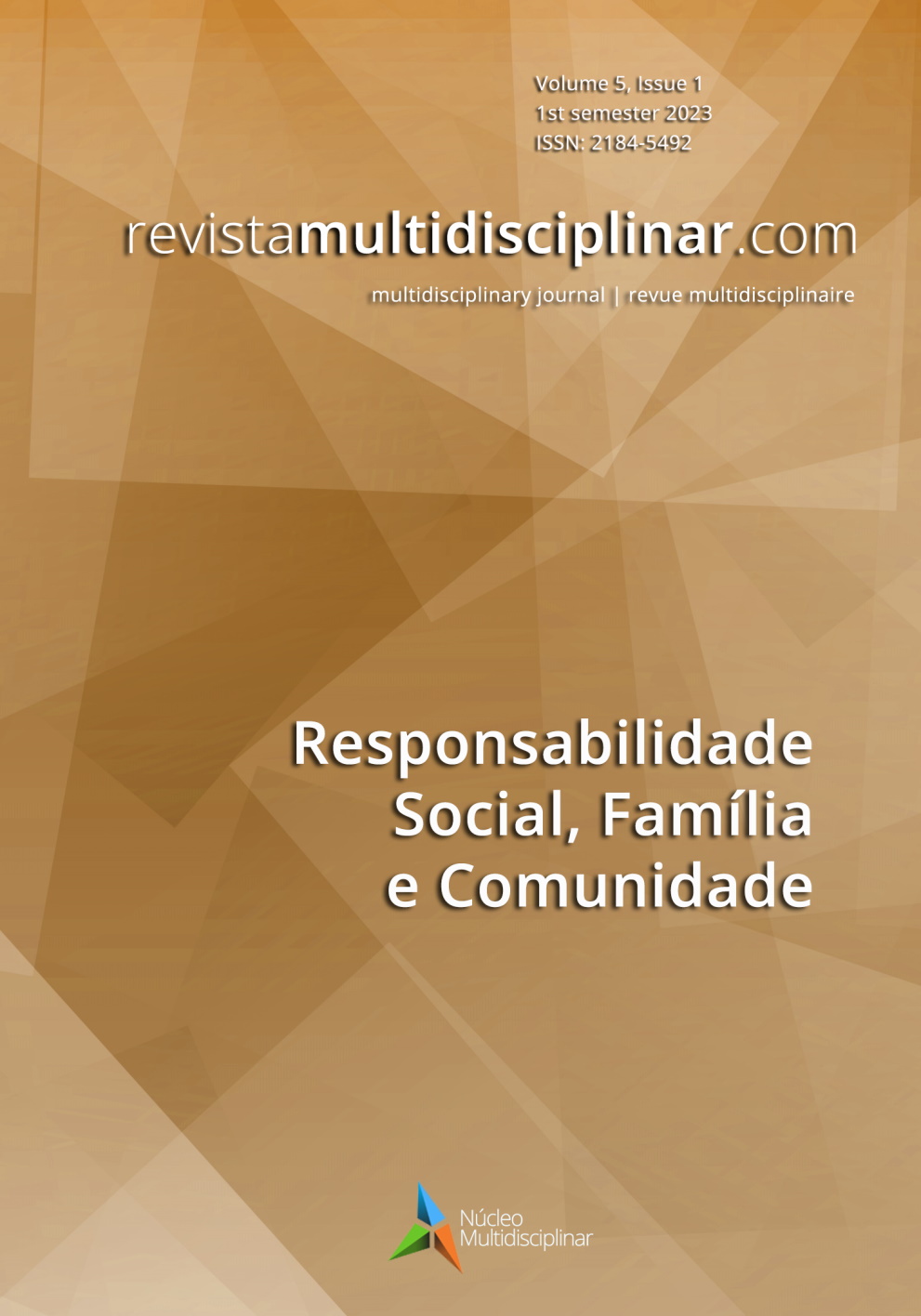 Downloads
Como Citar
Biaz , S., & Jibraili, Z. (2023). The financing modalities of banking foundations: Case study of social and solidarity economy sector in Morocco. [RMd] RevistaMultidisciplinar, 5(1), 91–114. https://doi.org/10.23882/rmd.23103
Licença
Direitos de Autor (c) 2022 zineb jibraili, Sanae Biaz
Este trabalho encontra-se publicado com a Creative Commons Atribuição-NãoComercial 4.0.