Turismo cinematográfico en Portugal
acorde a la clasificación de Graham Busby and Julia Klug
Palavras-chave:
Turismo, Turismo cinematográfico, cine, Promoción turística
Resumo
El turismo cinematográfico es un fenómeno complejo que puede ser estudiado desde diferentes perspectivas. En la actualidad tiene cada vez mayor relevancia y forma parte de nuestra nueva forma de consumo, ya que es a través del audiovisual desde donde pivotan gran parte de nuestras formas de ocio. Este fenómeno, de cada vez mayor explotación a nivel mundial, ha sido aprovechado por diferentes organizaciones turísticas para potenciar determinadas ubicaciones, sin embargo, otras organizaciones han reaccionado con lentitud ante este nuevo turismo cultural, a pesar de lo cual encontramos multitud de films que han podido inducir al turismo.
En este trabajo se partirá de la clasificación realizada por Blusby y Klung en 2001 donde proponen nueve tipos diferentes de turismo cinematográfico y se aplicará al cine rodado en Portugal en diferentes épocas y donde diferentes lugares de la geografía portuguesa pueden tener relevancia a la hora de ser elegidos como destinos turísticos, a partir de su aparición en algún producto audiovisual. 
Referências
Aldeas Históricas de Portugal (2023). Monsanto. https://shre.ink/ki03
Beeton, S. (2005). Film-induced tourism. Clevedon UK: Channel View.
Busby, G., y Klug, J. (2001). "Movie induced tourism: The challenge of measure-ment and other issues", Journal of Vacation Marketing,7 (4): 316-332. https://doi.org/10.1177/135676670100700403
Domínguez, D. (2011). Un Axolotl en Lisboa. La escuela de los domingos. https://shre.ink/kiN0
Espallargas, A. (2014). Lisboa, la ciudad blanca y de cine. 20 Minutos Online. http://bit.ly/3muRM7c
Gámir, A. (2016) Geografía y Cine: La representación del espacio geográfico en las películas de producción occidental. Tirant Lo Blanch. Colección crónica.
González Conde, A., Araújo Vila, N., y Rodríguez Campo, L. (2015). "Turismo ci-nematográfico: La conquista on line de nuevos mercados" ROTUR, Revista de Ocio y Turismo, 9: 17-34
Graça, A. R., Banha, F., y Banha, F. M. (2022). Video-Induced Tourism in Central Portugal: Production and Impact of Promotional Videos. Tourism & Manage-ment Studies, 18(1), 41-50. https://doi.org/10.18089/tms.2022.180104
IANS (2019). Portugal honours Imtiaz Ali's 'Jab Harry Met Sejal'. IndianTV. http://bit.ly/40WRHbo
INE (2021). Revenue from the tourist accommodation sector maintains growth trend. Instituto Nacional de Estatística. Tourism Activity. http://bit.ly/3KN624N
LisboaTurismo (n.d.). Lisbon Movie Tour, una idea para promocionar el turismo en la capital lusa. LisboaTurismo.com Guía con información turística para viajar a Lisboa. http://bit.ly/3nVLQVf
Monterrubio Ibáñez, L. (2011). Lisboa Story de Wim Wenders. El descubrimiento de la ciudad como metáfora del arte cinematográfico. A la búsqueda de sus identi-dades. Revista de Filología Románica, 2, 127-138. http://bit.ly/3KMXlr7
Nexotour (2019). El Turismo aumenta donde se ha rodado Juego de Tronos. Nexo-tour, plataforma de Información Turística. http://bit.ly/3GspPE3
OLT, On Location Tour (2023). Tv & Movie-Themed Tours. https://onlocationtours.com/
Osácar, E. M. (2009). Del turismo y el cine al turismo cinematográfico. Her&Mus. Heritage & Museography, 2, 18-25. http://bit.ly/3ZYFLoe
Pallota, F. (2022). "Game of Thrones" terminó con una caída ruidosa. Pero "House of the Dragon" ya se encendió" CNN BUSINESS, CNN Español. http://bit.ly/3MteRlx
PFC-Portugal Film Commission (n.d.). Cash Rebate Projects. https://bit.ly/3ZV25PU
PCF-Portugal Film Commission (n.d.). About Us. http://bit.ly/3KpQene
RAE - REAL ACADEMIA ESPAÑOLA: Diccionario de la lengua española, 23.ª ed., [versión 23.6 en línea]. https://dle.rae.es
Riley, R., Baker, D., y Van Doren, C. S. (1998). "Movie induced tourism", Annals of Tourism Research,25: 919-935.
Rodríguez Campo, L., Fraiz Brea, J. A., y González, E. A. (2014). El turismo cine-matográfico como tipología emergente del turismo cultural. PASOS. Revista de Turismo y Patrimonio Cultural, 12(1), 159-171. http://bit.ly/3KL98WY
Rodríguez Marchante, O. (2019). Llegan los hermanos Dardenne, siempre favoritos, con su pequeño islamista, ABC.es. http://bit.ly/3o01BdX
Roger Monzó, V., Llopis Amoros, M., y Santos Rojo, C. (2022). Turismo cinemato-gráfico: análisis de la promoción del destino a través de la prensa. Investi-gaciones Turísticas (24), pp. 85-105. https://doi.org/10.14198/INTURI2022.24.5
Rowling J. K. [@jk_rowling] (2020, May 21). For instance, I never visited this bookshop in Oporto. Never even knew of its existence! It's beautiful and I wish I *had* visited it, but it has nothing to do with Hogwarts! Twitter. https://bit.ly/3Kin60Q
UNESCO (n.d.). Cultural Landscape of Sintra. https://whc.unesco.org/en/list/723/
VisitPortugal (2020). Sobre nosotros | Compete 2020. Turismo de Portugal I.P. http://bit.ly/43kPtV5
Waade, A. M. (2017). Locations in Television Drama Series: Introduction. Series - International Journal of TV Serial Narratives, 3(1), 5–10. https://doi.org/j5h8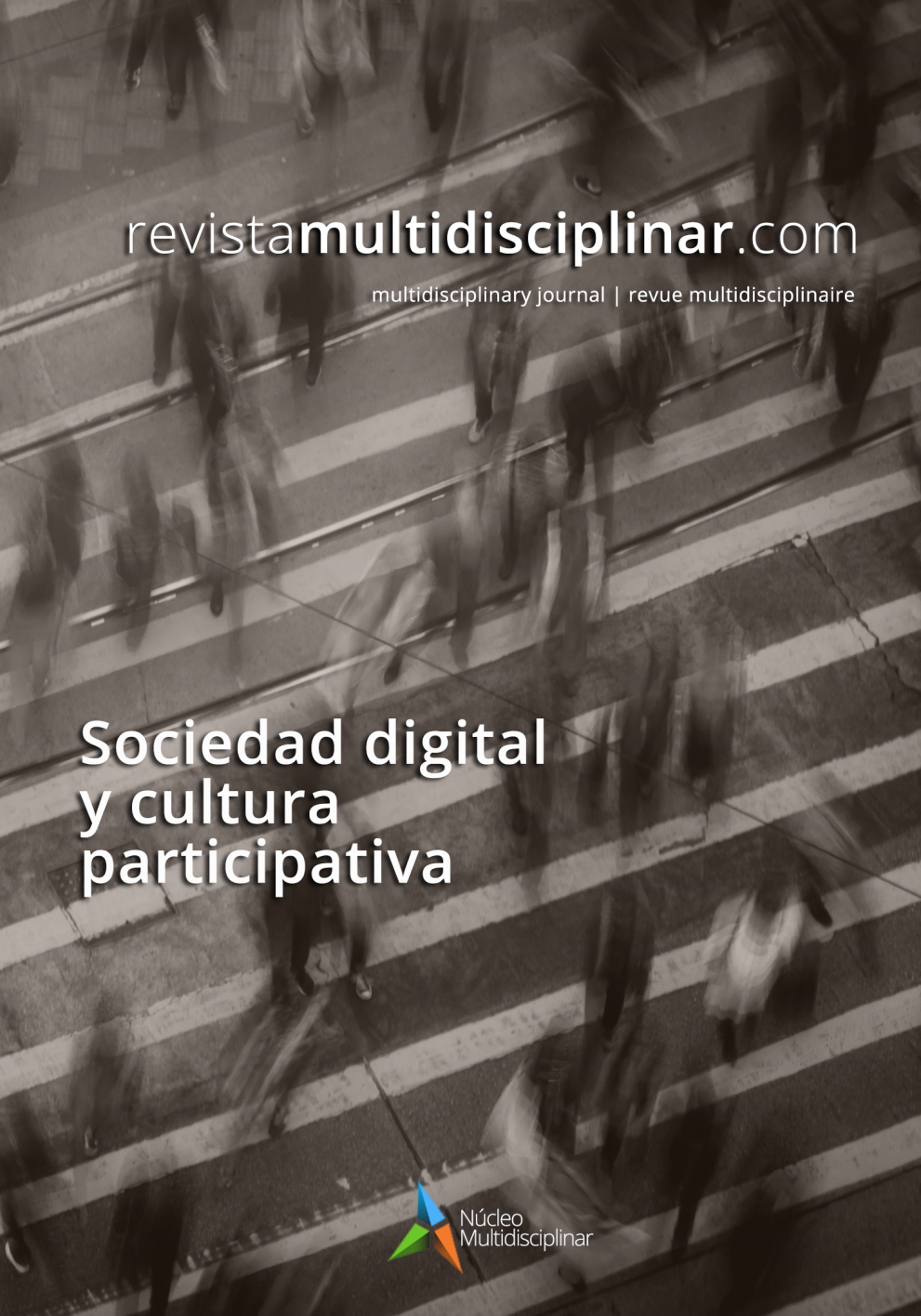 Como Citar
López Frías, C. (2023). Turismo cinematográfico en Portugal : acorde a la clasificación de Graham Busby and Julia Klug . [RMd] RevistaMultidisciplinar, 5(2), 177–193. https://doi.org/10.23882/rmd.23148
Licença
Direitos de Autor (c) 2023 Claudia López Frías
Este trabalho encontra-se publicado com a Creative Commons Atribuição-NãoComercial 4.0.