Cannabis sativa e sua influência na capacidade de inteligência de seus usuários
Palavras-chave:
Cannabis Sativa, maconha, Inteligência, Memória, Sistema Nervoso
Resumo
Popularmente conhecida como maconha ou marijuana, Cannabis sativa apresenta compostos que podem ser utilizados como terapêuticos e substâncias que afetam o sistema nervoso e, devido a tal fato, é classificada como uma droga ilícita. A principal substância psicoativa da cannabis demonstra enorme influência no cérebro, o THC atinge o sistema nervoso central, reconhece receptores no local, se liga e essa ação é responsável por seus efeitos. Assim, o objetivo do presente estudo é compreender se indivíduos que fazem o uso recreativo da Cannabis sativa podem ser afetados na diminuição da inteligência e, portanto, parte-se de uma revisão de literatura, realizada por meio das seguintes bases de dados: SciELO, PubMed PsycINFO e Science Direct. Com o uso crônico da substância é possível desenvolver alguns efeitos maléficos na atenção, na função cognitiva, memória operacional e tais efeitos em conjunto dificultam o aprendizado do indivíduo.
Referências
Batalla, A.; Crippa, J.A.; Busatto, G.F.; Guimaraes, F.S.; Zuardi, A.W.; Valverde, O.; Atakan, Z.; McGuire, P.K.; Bhattacharyya, S.; Martín-Santos, R. (2014). Neuroimag-ing Studies of Acute Effects of THC and CBD in Humans and Animals: a Systematic Review. Current Pharmaceutical Design, 20(13). 2168-2185(18).
Bindesri, S. D., Jebailey, R., Albarghouthi, N., Pye, C. C., & Brosseau, C. L. (2020). Spectroelectrochemical and computational studies of tetrahydrocannabinol (THC) and carboxy-tetrahydrocannabinol (THC-COOH). Analyst, 145(5), 1849-1857. https://doi.org/10.1039/C9AN02173F
Block, R. I., O'Leary, D. S., Hichwa, R. D., Augustinack, J. C., Ponto, L. L. B., Ghoneim, M. M., ... & Andreasen, N. C. (2000). Cerebellar hypoactivity in frequent marijuana users. Neuroreport, 11(4), 749-753.
Castillo, P. E., Younts, T. J., Chávez, A. E., & Hashimotodani, Y. (2012). Endocanna-binoid signaling and synaptic function. Neuron, 76(1), 70-81. https://doi.org/10.1016/j.neuron.2012.09.020
Chang, L., Yakupov, R., Cloak, C., & Ernst, T. (2006). Marijuana use is associated with a reorganized visual-attention network and cerebellar hypoactivation. Brain, 129(5). 1096–1112. https://doi.org/10.1093/brain/awl064
Cohen, K., Weizman, A., & Weinstein, A. (2019). Positive and negative effects of cannabis and cannabinoids on health. Clinical Pharmacology & Therapeutics, 105(5), 1139-1147. https://doi.org/10.1002/cpt.1381
Corrêa, L. T., Plata, C. F., Ricci, E. L., Nicoletti, M. A., Caperuto, E. C., de Souza Spi-noza, H., ... & Fukushima, A. R. (2020). Revisão Bibliográfica Sistematica-Sistema de Endocanabinoides Tendências de Uso na Farmacologia. Brazilian Journal of Fo-rensic Sciences, Medical Law and Bioethics, 9(2), 146-167. https://doi.org/10.17063/bjfs9(2)y2020146
Decreto Nº 9.761, de 11 de Abril (2019). Aprova a Política Nacional sobre Drogas. Diário Oficial da União: Edição 70-A, Seção 1 Extra, Página 7. https://bit.ly/3l9gXZj
Devinsky, O., Cilio, M. R., Cross, H., Fernandez‐Ruiz, J., French, J., Hill, C., ... & Friedman, D. (2014). Cannabidiol: pharmacology and potential therapeutic role in ep-ilepsy and other neuropsychiatric disorders. Epilepsia, 55(6), 791-802. https://doi.org/10.1111/epi.12631
Dhadwal, G., & Kirchhof, M. G. (2018). The Risks and Benefits of Cannabis in the Dermatology Clinic. Journal of Cutaneous Medicine and Surgery, 22(2), 194–199. https://doi.org/10.1177/1203475417738971
Dinis-Oliveira, R. J. (2016). Metabolomics of Δ9-tetrahydrocannabinol: implications in toxicity. Drug metabolism reviews, 48(1), 80-87. https://doi.org/10.3109/03602532.2015.1137307
Djeungoue‐Petga, M. A., & Hebert‐Chatelain, E. (2017). Linking mitochondria and synaptic transmission: the CB1 receptor. Bioessays, 39(12), 1700126. https://doi.org/10.1002/bies.201700126
ElSohly, M. A., Radwan, M. M., Gul, W., Chandra, S., & Galal, A. (2017). Phytochemistry of Cannabis sativa L. Phytocannabinoids, 1-36. https://doi.org/10.1007/978-3-319-45541-9_1
Ferraro, L., Russo, M., O'Connor, J., Wiffen, B. D., Falcone, M. A., Sideli, L., ... & Di Forti, M. (2013). Cannabis users have higher premorbid IQ than other patients with first onset psychosis. Schizophrenia Research, 150(1), 129-135. https://doi.org/10.1016/j.schres.2013.07.046
Fogaça, J.R.V. (2020) THC - Principal componente ativo da maconha. Mundo Educação. https://bit.ly/3qszTFQ
Ford, T. C., Hayley, A. C., Downey, L. A., & Parrott, A. C. (2017). Cannabis: an over-view of its adverse acute and chronic effects and its implications. Current drug abuse reviews, 10(1), 6-18. https://doi.org/10.2174/1874473710666170712113042
Gibbons, C. H. (2019). Basics of autonomic nervous system function. Handbook of clinical neurology, 160, 407-418. https://doi.org/10.1016/B978-0-444-64032-1.00027-8
Grant, I., Gonzalez, R., Carey, C. L., Natarajan, L., & Wolfson, T. (2003). Non-acute (residual) neurocognitive effects of cannabis use: a meta-analytic study. Journal of the International Neuropsychological Society, 9(5), 679-689. https://doi.org/10.1017/S1355617703950016
Hamilton, I., & Hugues, E. (2020, julho 16). Maconha faz mal – mas também faz bem – à memória. Projeto Colabora. https://bit.ly/3HagGhY
Heiss, C. N., & Olofsson, L. E. (2019). The role of the gut microbiota in development, function and disorders of the central nervous system and the enteric nervous system. Journal of neuroendocrinology, 31(5), e12684. https://doi.org/10.1111/jne.12684
Lorenzetti, V., Solowij, N., Fornito, A., Ian Lubman, D., & Yucel, M. (2014). The asso-ciation between regular cannabis exposure and alterations of human brain morpholo-gy: an updated review of the literature. Current pharmaceutical design, 20(13), 2138-2167.
Lundqvist, T. (2005) Cognitive consequences of cannabis use: comparison with abuse of stimulants and heroin with regard to attention, memory and executive functions. Pharmacol Biochem Behav. 81(2), 319-330 https://doi.org/10.1016/j.pbb.2005.02.017
Martín-Santos, R., Fagundo, A., Crippa, J., Atakan, Z., Bhattacharyya, S., Allen, P., . . . McGuire, P. (2010). Neuroimaging in cannabis use: A systematic review of the litera-ture. Psychological Medicine, 40(3), 383-398. https://doi.org/10.1017/S0033291709990729
Miettunen, J., Törmänen, S., Murray, G., Jones, P., Mäki, P., Ebeling, H., . . . Veijola, J. (2008). Association of cannabis use with prodromal symptoms of psychosis in ado-lescence. British Journal of Psychiatry, 192(6), 470-471. https://doi.org/10.1192/bjp.bp.107.045740
Nestler, E. J.; Hyman S. E.; Robert, C. M. (2001). Molecular neuropharmacology: a foundation for clinical neuroscience. New York: McGraw-Hill. 539p.
Paronis, C. A., Nikas, S. P., Shukla, V. G., & Makriyannis, A. (2012). Δ9-Tetrahydrocannabinol acts as a partial agonist/antagonist in mice. Behavioural pharmacology, 23(8), 802. https://doi.org/10.1097%2FFBP.0b013e32835a7c4d
Radhakrishnan, R., Wilkinson, S. T., & D'Souza, D. C. (2014). Gone to pot–a review of the association between cannabis and psychosis. Frontiers in psychiatry, 5, 54. https://doi.org/10.3389/fpsyt.2014.00054
Ribeiro, J. A. C. (2015). A cannabis e suas aplicações terapêuticas. Tese de Doutorado. Universidade Fernando Pessoa. http://hdl.handle.net/10284/4828
Robinson, T. E., & Becker, J. B. (1986). Enduring changes in brain and behavior produced by chronic amphetamine administration: a review and evaluation of animal models of amphetamine psychosis. Brain research reviews, 11(2), 157-198. https://doi.org/10.1016/0165-0173(86)90002-0
Schreiner, A. M., & Dunn, M. E. (2012). Residual effects of cannabis use on neurocognitive performance after prolonged abstinence: a meta-analysis. Experimental and clinical psychopharmacology, 20(5), 420–429. https://doi.org/10.1037/a0029117
Schweinsburg, A. D., Nagel, B. J., Schweinsburg, B. C., Park, A., Theilmann, R. J., & Tapert, S. F. (2008). Abstinent adolescent marijuana users show altered fMRI response during spatial working memory. Psychiatry Research: Neuroimaging, 163(1), 40-51. https://doi.org/10.1016/j.pscychresns.2007.04.018
Volkow, N. D., Baler, R. D., Compton, W. M., & Weiss, S. R. (2014). Adverse health effects of marijuana use. New England Journal of Medicine, 370(23), 2219-2227. https://doi.org/10.1056/NEJMra1402309
Wilson, W., Mathew, R., Turkington, T., Hawk, T., Coleman, R. E., & Provenzale, J. (2000). Brain morphological changes and early marijuana use: a magnetic resonance and positron emission tomography study. Journal of addictive diseases, 19(1), 1-22. https://doi.org/10.1300/J069v19n01_01
Yücel, M., Solowij, N., Respondek, C., Whittle, S., Fornito, A., Pantelis, C., & Lub-man, D. I. (2008). Regional brain abnormalities associated with long-term heavy cannabis use. Archives of general psychiatry, 65(6), 694-701. https://doi.org/10.1001/archpsyc.65.6.694
Zalesky, A., Solowij, N., Yücel, M., Lubman, D. I., Takagi, M., Harding, I. H., ... & Seal, M. (2012). Effect of long-term cannabis use on axonal fibre connectivity. Brain, 135(7), 2245-2255. https://doi.org/10.1093/brain/aws136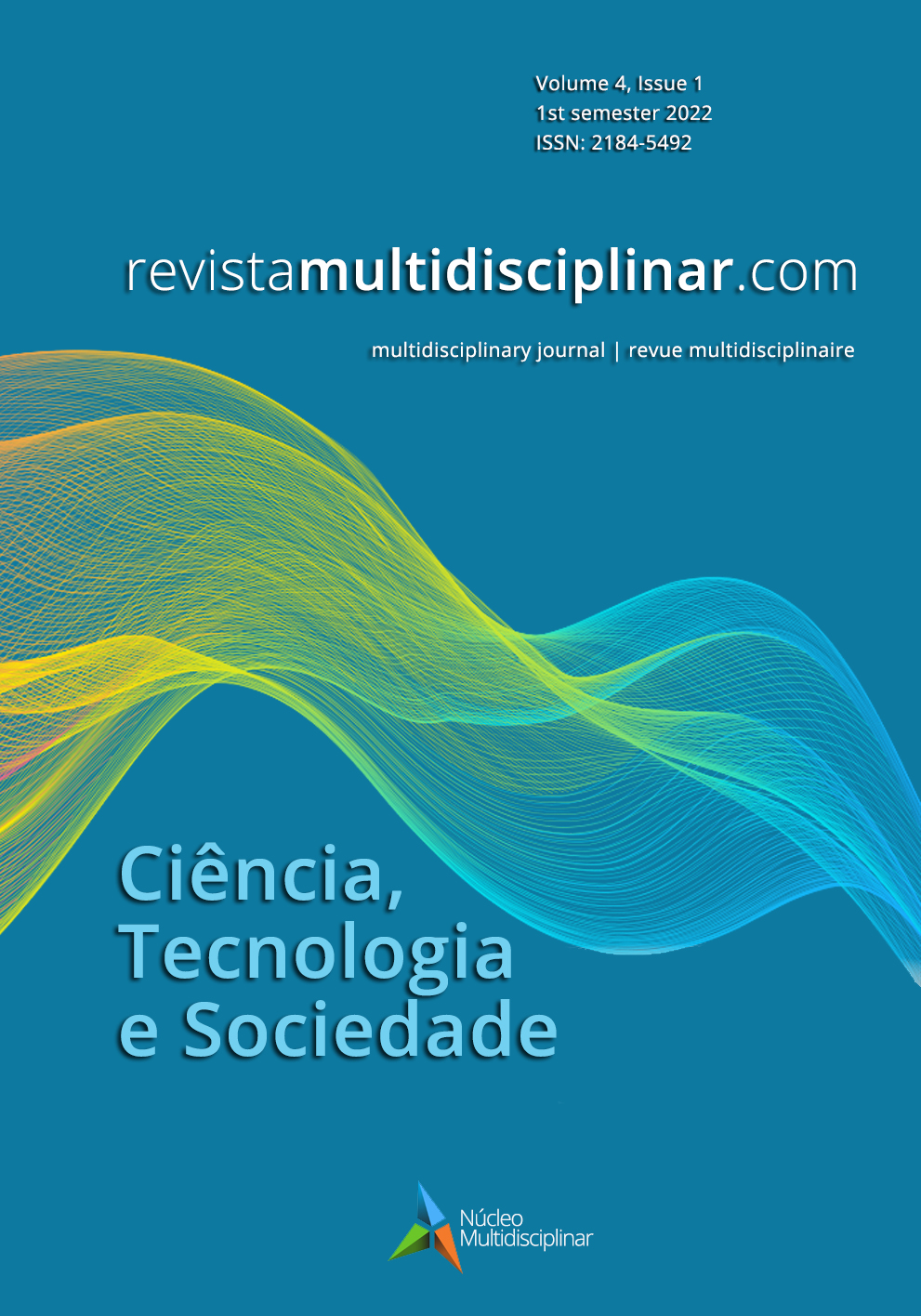 Como Citar
Agrela Rodrigues, F. de A. (2021). Cannabis sativa e sua influência na capacidade de inteligência de seus usuários. [RMd] RevistaMultidisciplinar, 4(1), 15–25. https://doi.org/10.23882/rmd.22073
Licença
Direitos de Autor (c) 2022 Fabiano de Abreu Rodrigues
Este trabalho encontra-se publicado com a Creative Commons Atribuição-NãoComercial 4.0.